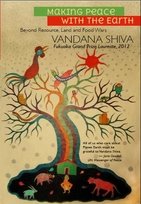 MAKING PEACE WITH THE EARTH:
BEYOND RESOURCE, LAND AND FOOD WARS
Vandana Shiva
Rs 450 Pb 2012
978-81-88965-75-8
(UK, US English language, German, South African, Australian and Malayalam rights sold. All others available.)

Wars in the 21st century are wars against the earth; against natural resources like water, soil, forests, minerals and seeds. The global corporate economy based on the idea of limitless growth has become a war economy. Trade wars. Water wars. Food wars.
Making Peace with the Earth outlines how a paradigm shift to earth-centred politics and economics is our only chance of survival; and how collective resistance to corporate exploitation can open the way to a new environmentalism of interdependence and earth democracy
Corporate control violates all ethical and ecological limits. It promotes technologies of production based on genetic engineering, geo-engineering and toxins; industrial development that entails the enforced appropriation of land, rivers, mountains; agribusinesses that deplete nature's diversity and land-grab. Exploitation of this order incurs the kind of ecological and economic debt that is unsustainable, unbailable and unbearable.
VANDANA SHIVA

is a world-renowned environmental thinker and activist, a leader in the International Forum on Globalisation, and of the Slow Food Movement. Director of Navdanya and of the Research Foundation for Science, Technology and Ecology, and a tireless crusader for farmers', peasants' and women's rights, she is the author and editor of a score of influential books on the environment.
Shiva is the recipient of over 20 international awards, among them the Right Livelihood Award (1993); Medal of the Presidency of the Italian Republic (1998); the Horizon 3000 Award (Austria, 2001); Save the World Award (2009); Sydney Peace Prize (2010); Calgary Peace Prize (Canada, 2011); the Thomas Merton Award (2011); and the John Lennon-Yoko Ono Grant for Peace.