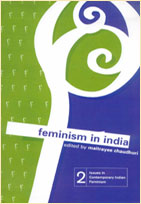 FEMINISM IN INDIA
Maitreyee Chaudhuri (Ed.)
Rs 375 Pb 2005
81-88965-21-9
(UK & US rights sold. All others available.)
The second in the series, Issues in Contemporary Indian Feminism, this volume brings together the writing of prominent Indian academics and activists as they discuss feminism in the context of the culture, society and politics of India, providing an overview of the history of Indian feminism. These essays show how the women's movement is part of the larger project of consolidating secularism and democracy in India. The inevitability of the association with western feminism, the status of women in colonial and independent India, and recent challenges to feminism posed by the tide of globalization and the upsurge of the Hindu Right are discussed at length.
MAITRAYEE CHAUDHURI
teaches sociology at the Centre for the Study of Social Systems, Jawaharlal Nehru University, New Delhi. She has written widely on different aspects of gender studies; her earlier works include
The Indian Women's Movement: Reform and Revival
and
The Practice of Sociology
. Her current research interests are in the area of the cultural and political aspects of globalisation, and pedagogical questions. .

"The essays… testify to the fact that a vigorous, if uneven, women's movement has been in existence for several decades… and offers textured understanding of feminism in India."
—Asian Journal of Women's Studies

"The collection serves as a useful reminder of the shaping of varied strands of feminist theory and practice in the country."
—Economic & Political Weekly