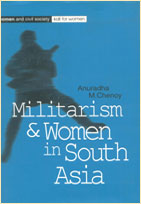 MILITARISM & WOMEN IN SOUTH ASIA
Anuradha Chenoy
Rs 250 Hb 2002
81-86706-42-9
(All rights available)
Jaffna. Colombo. Karachi. Peshawar. Kashmir. Punjab. North-East India. Chittagong Hill Tracts...
Women in South Asia have borne the brunt of militarism in a number of ways, especially because, combined with fundamentalism and national chauvinism, it has reinforced patriarchal practice. With militarism, all other oppressions tend to interlock.
This book is a closely argued, detailed analysis of the growing militarism in South Asia and presents not just the phenomenon, but all its ramifications, examining its manifestations across the region from a feminist perspective for the first time.

ANURADHA CHENOY
is a Professor at the School of International Studies, Jawaharlal Nehru University, New Delhi. She has written and published widely on international relations, and is the author of
The Making of New Russia
(2001).