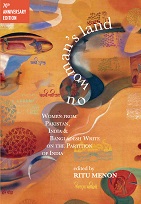 AT THE CUTTING EDGE:
ESSAYS IN HONOUR OF KUMARI JAYAWARDENA
Neloufer de Mel & Selvy Thiruchandran (Eds.)
Rs 450 Hb 2007
81-88965-37-5
(Sri Lankan rights sold. All others available.)
A significant collection of essays that honours Kumari Jayawardena, a pioneering South Asian feminist scholar, activist and social scientist.. Contributors explore topics and contemporary debates that resonate closely with Jayawardena's work on gender, nationalism, race and class. They offer a rich compendium of critical thought on issues of identity, culture, human rights, and gender and the state. The essays, authored by eminent scholars across disciplines, are by Uma Chakravarti, Kumkum Sangari, Nancy Fraser, Valentine M. Moghadam, Radhika Coomaraswamy, Laksiri Jayasurya, R.S. Perinbanayagam, Aloysius Peiris, Malathi de Alwis, Sheila Rowbotham, Romila Thapar and Maithree Wickramasinghe.

A critical engagement with nationalism and its linkages with gender, class and ethnicity has animated much of Jayawardena's work. Her pioneering book on Third World feminism and nationalism showed that feminism was not a western import and that its existence and growth in emerging post-colonial nation states was distinctly related to their modernising impulses. Importantly she paved the way for an understanding of Third World feminisms as varied and rooted in regional, historical and cultural specificities.

Many of the essays in this volume are in dialogue with this initial post-colonial feminist phase and take it as a point of departure to explore several issues that animate current feminist activism and scholarship. As such they locate it at the cutting edge with its promise of both abrasion and vision.
Neloufer de Mel
is Professor of English at the Department of English, University of Colombo, Sri Lanka. She is the author of
Women and the Nation's Narrative: Gender and Nationalism in 20th Century Sri Lanka
(2001) and
Militarizing Sri Lanka: Popular Culture, Memory and Narrative in the Armed Conflict
(2007).
Selvy Thiruchandran
is Executive Director of the Women's Education and Research Centre (WERC), Colombo. She is the author of
The Spectrum of Femininity, Feminine Speech Transmission; Subjectivities and Historicism; Stories from the Diaspora: Tamil Women, Writing; Ideology, Caste, Class and Gender;
and
The Other Victims of War: Emergence of Female-Headed Households in Eastern Sri Lanka.