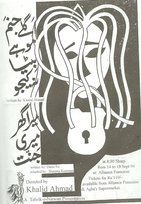 GENDER, POLITICS, AND PERFORMANCE IN SOUTH ASIA
Sheema Kermani,
Asif Farrukhi & Kamran Ali
(Eds.)
Rs 750 Hb/Pb 2015
978-81-88965-95-3
In one of the first books of its kind, this volume captures the history of activism and political struggle in literature and the performing arts in South Asia.

Its focus is on gender, on artists and performances that defied—and defy—censorship and state authority; on women who contributed significantly to cultural life in their countries; on writers, performers and poets who challenged social mores and polite society through subversive creative expression.

Contributors critique established norms and uncover histories of the oppressed in order to articulate a politics that imagines a more egalitarian and liberated future in the subcontinent.
SHEEMA KERMANI

is founder and head of Tehrik-e-Niswan, an organisation dedicated to claiming women's rights through the medium of dance and theatre.

ASIF FARRUKHI
is a writer, critic and translator, and editor of Duniyazad, a literary journal in Urdu. He was awarded the Prime Minister's Literary Award by the Pakistan Academy of Letters in 1997, and the Tamgha-i-Imtiaz by the Pakistan government.

KAMRAN ALI
is Associate Professor of Anthropology and Director of the South Asia Institute, University of Texas at Austin. Author of numerous academic papers and books, he has guest-edited Urban Margins: Envisioning the Contemporary Global South. His book, Communism in Pakistan: Politics and Class Activism, 1947-1972 is forthcoming.