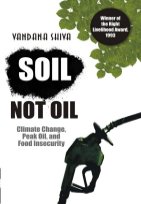 SOIL NOT OIL:
CLIMATE CHANGE, PEAK OIL, AND FOOD INSECURITY
Vandana Shiva
Rs 225 Pb 2009, 2012
81-88965-53
Shiva connects the food crisis, peak oil, and climate change to show that a world beyond a dependence on fossil fuel and globalisation is both possible and necessary. Condemning industrial agriculture and industrial biofuels as recipes for ecological and economic disaster, she argues for sustainable, biologically diverse farms that are more resistant to disease, drought, and flood and calls for a return to local economies and small-scale food production.
VANDANA SHIVA
is a world-renowned environmental thinker and activist. A leader in the International Forum on Globalization (IFG) with Ralph Nader and Jeremy Rifkin and the Slow Food movement. Shiva won the Alternative Nobel Prize ( the Right Livelihood Award) in 1993. She is Director of the Research Foundation for Science, Technology and Ecology, and the author of many books including
The Violence of the Green Revolution (1990), Ecology and the Politics of Survival (1991), Stolen Harvest (2000), and Patents: Myths and Reality
(2001) and
Manifestos on the Future of Food & Seed
(2007). Before becoming an activist, Vandana Shiva was one of India's leading physicists. She was awarded the prestigious Sydney Peace Prize in 2010.

One of the world's most prominent radical scientists
—The Guardian

The South's best-known environmentalist
—New Internationalist