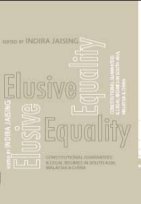 ELUSIVE EQUALITY:
CONSTITUTIONAL GUARANTEES AND LEGAL REGIMES IN SOUTH ASIA. MALAYSIA AND CHINA
Indira Jaising (Ed.)
Rs 425 Hb 2011
81-88965-70-7
(All rights available)
This volume focuses on conceptions of equality and looks at how different constitutional systems—plural, secular, theocratic or socialist—approach equality in different spheres of activity. It questions what the right to equality means for women under these differing constitutional provisions?

At one end of the spectrum lies theocratic Malaysia with its hybrid constitution, neither Islamic nor secular; at the other end is China's secular socialist constitution which recognises neither religion nor custom. India, simultaneously secular but recognising personal laws, falls in the middle, while Nepal, a country in transit from Hindu monarchy to democracy, has framed a constitution that recognises equality as a fundamental right. A critical and in- depth analysis of these diverse contexts and constitutions suggests that an interpretation of the right to equality may depend more on what one understands by 'equality' rather than by constitutional provisions, per se.
INDIRA JAISING

is Executive Director of Lawyers' Collective Women's Rights Initiative. She was the first woman to be designated Senior Advocate (1986) and the first woman to be appointed Additional Solicitor General of India (2009). Throughout her legal career, Jaising has focused on the protection of the human rights of women, successfully defending several landmark cases on discrimination. She was the recipient of the Padma Shri, the third highest civilian award in India, in 2005, and was nominated to the CEDAW Committee in January 2009..