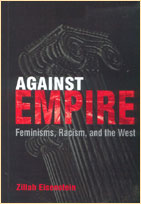 AGAINST EMPIRE:
FEMINISMS, RACISM, AND THE WEST
Zillah Eisenstein
Rs 350 Pb 2005
81-88965-05-7
Zillah Eisenstein urges a relook at the fundamental categories through which we perceive our world—historical, political, epistemological, even moral. The sweep of her concerns ranges across the world, challenging the Bush administration's headlong recourse to war that is justified in the name of liberty and democracy. She brings to the fore feminisms other-than-western, and urges the recognition of the flow of ideas and attitudes between the West and other parts of the globe India, Africa and the Islamic world. Presenting a picture of women's activism across the world, she critiques the relentless march of globalisation and the resultant shrinking of democratic possibilities. She throws light on the enormous potential latent in women's activism a 'polyversal' humanism that spreads greater understanding, gentleness and peace.
ZILLAH EISENSTEIN

has been Professor of Politics at Ithaca College, New York. She is the author of
Hatreds: Racialized and Sexualized Conflicts in the 21st Century
(1996),
Global Obscenities: Patriarchy, Capitalism and the Lure of Cyberfantasy
(1998) and
ManMade Breast Cancers
(2001).