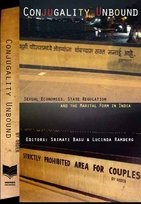 CONJUGALITY UNBOUND:
SEXUAL ECONOMIES, STATE REGULATION AND THE MARITAL FORM IN INDIA
Srimati Basu & Lucinda Ramberg (Eds.)
Rs 575 Hb 2015
978-81-88965-88-5
(All rights available)
What counts as marriage? What's love got to do with it? How are the married and the unmarried marked off from each other in relation to the law and to the gods? Might productive, inventive, subversive relationships and modes of being human take shape outside marriage and/or against its regulatory norms?

Conjugality Unbound

questions marriage as a self-evident, timeless, and unitary institution, and considers the complex negotiations of everyday intimate, economic, sexual, domestic, and procreative arrangements that occur under the sign of marriage.
SRIMATI BASU

is Associate Professor of Gender and Women's Studies and Anthropology at the University of Kentucky, and the author of
The Trouble with Marriage: Feminists Confront Law and Violence in India
(2015). She has previously written about Indian women and inheritance laws in the monograph,
She Comes to Take Her Rights: Indian Women, Property and Propriety
(1999), and on property, law, marriage, intimacy, violence and popular culture in various anthologies and journals, edited the
Dowry and Inheritance
volume in the series
Issues in Contemporary Indian Feminism
and is a contributing blogger to
Ms.
magazine..
LUCINDA RAMBERG
is Assistant Professor of Anthropology and Feminist, Gender, and Sexuality Studies at Cornell University. She is the author of the monograph, Given to the Goddess: South Indian Devadasis and the Sexuality of Religion (2014) and has published articles in American Ethnologist; Culture, Medicine and Psychiatry; Feminist Studies; and Medical Anthropology: Cross Cultural Studies in Health and Illness.