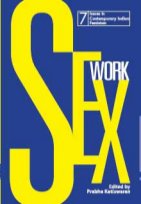 SEX WORK
Prabha Kotiswaran (Ed.)
Rs 650 Hb 2011
1-88965-65-0
(All rights available)
This book focuses on the specificities of debates around sex work in the Indian Women's movement over the last decade: the influence of international abolitionism and public health campaigns vs. the construction of sex work as a violation of human rights and women's right to equality and freedom from exploitation.It offers a serious engagement with different approaches to regulating sex work, from recommendations for increased criminalisation, partial decriminalisation or legalisation involving registration and compulsory health checks for sex workers.The book comprises four major sections: colonial legal histories of sex work; post-independence feminist debates on sex work; some contemporary ethnographies of sex work; and the mobilisational politics of sex workers themselves. It also includes documents and manifestos from the sex workers' movement.
PRABHA KOTISWARAN

is Lecturer in Law at the School of Law, School of Oriental and African Studies, University of London, where she teaches Criminal Law, Law and Social Movements and Feminist Legal Theory. Her research interests are in the areas of gender and the sociology of Indian law. She is the author of
Dangerous Sex, Invisible Labour: Sex Work and the Law in India
(forthcoming 2011).