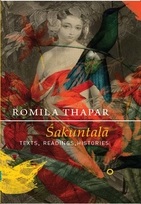 ŚAKUNTALĀ:
TEXTS, READINGS, HISTORIES
Romila Thapar
Rs 450 Pb 2018
978-81-88965-60-1
(US and UK rights sold. All others available.)
The importance of

Śakuntalā

as personifying Indian womanhood in Indian literature and culture is undisputed. This book attempts to explore some of the links between culture, history and gender, and between literature and history, through reading variant versions of the narrative of

Śakuntalā

These include the stories in the

Mahābhārata,

the play by Kālidāsa,and the 18th century

kathā

in Braj. The transformation of

Śakuntalā

from an autonomous assertive figure in the

Mahābhārata,

to the quintessential submissive woman in the Kālidāsa version, is carefully examined by the author through a fascinating reading of texts and translations of the play in India and Europe.



ROMILA THAPAR
has specialised in early Indian history and has written extensively on the many aspects of the past. Her best-known books are,
Aśoka and the Decline of the Mauryas: From Lineage to State; History and Beyond; Cultural Pasts: Essays in Early Indian History; Early India; Somanatha: the Many Voices of a History;
and
The Aryan: Recasting Constructs.


She has been a visiting professor at universities in Asia, Europe and the USA and is now Professor Emeritus in Ancient Indian History at Jawaharlal Nehru University, New Delhi. In 2008 she was awarded the Kluge Prize of (the American Nobel) for Lifetime Achievement in the field of history.

Thapar shows it is possible to express complex ideas, rooted in philosophy and hermeneutics, without recourse to jargon. This book is a front-runner for the prize of the best book on Indian history to published in the Nineties.
—The Telegraph

As fascinating as Sakuntala's journey is Thapar's retelling of it and her careful assumption of the role of a literary detective.
—The Hindu

Thapar's wide- ranging essays and monographs make a strong case for the urgency to historicise traditions and highlight the changing meaning of texts and oral cultures.
—Hindustan Times.