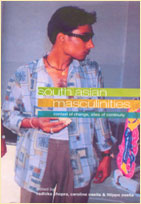 SOUTH ASIAN MASCULINITIES:
CONTEXT OF CHANGE, SITES OF CONTINUITY
Radhika Chopra, Caroline Osella & Filippo Osella (Eds.)
Rs 600 Hb 2004
81-86706-75-5
(All rights available)
What does it mean to be a man in word, flesh, deed, affect in the shifting context of South Asia? 'Masculinity' has in recent years begun to be theorised as a field of study; while its study in different cultural areas (Islamic, American, Mediterranean) has been undertaken, South Asia remains relatively unexplored.
This volume seeks to fill the gap and build a wider body of ethnographic work, as well as contribute to the theoretical literature on gender. The papers are drawn from anthropology, history, film studies and literature, and are aimed at South Asian scholars as well as a wider audience of people interested in gender studies.



CONTRIBUTORS

: Alessandro Monti, Bob Simpson, Geert de Neve, Caroline and Filippo Osella, Karen Gabriel, Prem Kumar Vijayan, Radhika Chopra, Ravi Vasudevan, Sanjay Srivastava, Thomas Michael Walle and Nayanika Mookherjee.

RADHIKA CHOPRA
is with the Department of Sociology, Delhi University, teaching courses and supervising research in gender studies. Her recent work has addressed the issue of gender and masculinity with a focus on South Asia. She has recently edited a volume of essays,
From Violence to Supportive Practice: Family, Gender and Masculinity in India.

CAROLINE AND FILIPPO OSELLA
were both trained at the London School of Economics. Filippo is Professor of Anthropology, University of Sussex, and Caroline Osella is Reader at the Department of Anthropology and Sociology, SOAS (formerly School of Oriental and African Studies), London. They have carried out extended fieldwork in Kerala and the Persian Gulf since 1989. Their research interests include social mobility, migration, agrarian relations, sexuality and spirit possession. Among their publications is
Social Mobility in Kerala: Modernity and Identity in Conflict.