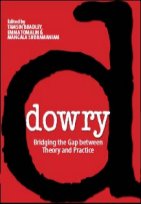 DOWRY:
BRIDGING THE GAP BETWEEN THEORY AND PRACTICE
Tamsin Bradley, Emma Tomalin & Mangala Subramaniam (Eds.)
Rs 350 Hb 2009
81-88965-47-2
(UK and US rights sold. All others available.)
This book explores dowry practices in South Asia from a number of theoretical perspectives and through a multidisciplinary lens. It provides an overview of these debates and discussions as they have developed since the 1960s, with the emergence of the Indian women's movement in particular.

New research asks important questions about the spread of dowry, the shifting dynamics of the dowry terrain, and the role of gender in underpinning dowry abuse. How is the practice being resisted both in South Asia, as well as globally? What roles do religion, culture, economics, class or caste play in shaping dowry practices as well as perpetuating the abuse of dowry customs that result in death or injury to women across South Asia? This volume analyses and explores the dynamics of these changes and the complexities they involve. It highlights the particular role that academic research can play and presents suggestions about the sorts of activism and action necessary to end dowry injustice.

Contributors include: Srimati Basu, Sonia Dalmia, Kate Jehan, Pareena Lawrence, Debarashmi Mitra, Rajni Palriwala, Karen Remedios and Santi Rozario.
TASMIN BRADLEY

is Reader in International Development Studies, school of languages and area Studies, Faculty of Humanities and Social Sciences, University of Portsmouth. Key publications include: a monograph
Challenging the NGOs: Religion, Western Discourses and Indian Women
(2006).,

EMMA TOMALIN

is Senior Lecturer in Religious Studies, at the School of Philosophy, Religion and History of Science, University of Leeds. She is the author of
Bio-divinity and biodiversity: the limits of religious environmentalism
(2009).

MANGALA SUBRAMANIAM

is Associate Professor of Sociology at Purdue University. She has written articles in several journals on sociology and her monograph,
The Power of Women's Organizing: Gender, Caste, and Class in India
(2006)
focuses on the women's movement in India, specifically on Dalit women's organising.