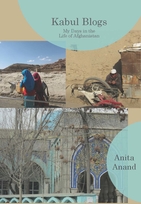 KABUL BLOGS:
MY DAYS IN THE LIFE OF AFGHANISTAN
Anita Anand
Rs. 375 Pb Pp. 228
978-8188965-84-7
(All rights available)
Imagine. Two women – one who runs a gym for women and the other, a radio news reader – become Meembers of Parliament. Fawzia Gailani is a 32-year old mother with six children, Parwin Mohmand, a 40-year-old mother with four children.
Both women are the protagonists of a documentary by the production company, Women's Eyes. Between shots of Afghan women in full garb on exercise machines at Gailani's gym, and her in Parliament, is an astonishing and refreshing contrast. Gailani now lives in Kabul, and as her position as a politician requires, has personal bodyguards to protect her.
Parwin is seen in conversation with Kuchi male leaders who want to get land to graze their cattle, without having to pay for it. They don't like to have their women photographed, but after much reluctance, give in. We see the daily chores of the Kuchi women – making cheese, stitching and rebuilding the mud wall of a kitchen; the men sit around, watching. When asked why they don't help the women, they say, it's women's work; we do outside work.
ANITA ANAND

managed a women's feature service headquartered in India from 1991-2000. She has been travelling to Afghanistan since 2004, conducting assessments and doing capacity building with media and civil society organisations. In 2006, on an extended stay in Kabul, she started a blog,
Letter from Afghanistan.
Anand is the author of The Beauty Game, and co-editor of World Social Forum: Challenging Empires and Whose World is it Anyway? The United Nations, Civil Society and the Multilateral Future.