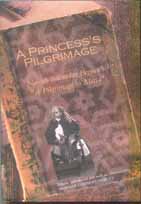 A PRINCESS'S PILGRIMAGE:
NAWAB SIKANDAR BEGUM'S 'A PILGRIMAGE TO MECCA'
Introduction & Afterword: Dr. Siobhan Lambert-Hurley
Rs 350 Hb 2007
81-88965-38-3
(Italian, Pakistani, US & UK rights sold. All others available.)
In 1870, Nawab Sikandar Begum of Bhopal was the first Muslim woman to write an account of her Hajj pilgrimage to Mecca with a retinue of a thousand. Her witty and acerbic impressions provide a unique insight into her complex personality.

The critical Introduction and Afterword make this a comprehensive resource on travel writing by South Asian Muslim women, and encourages a rethink of established understandings of travel writing, colonialism and world history.
Dr. SIOBHAN LAMBERT-HURLEY

is Senior Lecturer in Modern History at Loughborough University, UK. Her publications include
Muslim Women, Reform and Princely Patronage: Nawab Sultan Jahan Begam of Bhopal
(2007) and
Rhetoric and Reality: Gender and the Colonial Experience in South Asia
(co-edited with Avril A. Powell, 2006).