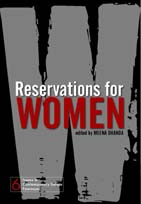 RESERVATIONS FOR WOMEN
Meena Dhanda (Ed.)
Rs. 600 Hb 2008
81-88965-41-3
(All rights available)
This collection of essays and excerpts brings together, for the first time, a range of writings on the issue of affirmative action for increasing the presence of women in Parliament and legislative assemblies in India. A comprehensive coverage of the debate from historical, theoretical, practical and political perspectives locates the discussions in India within the larger global context. The proposals discussed range from the reservation of seats in Parliament through quotas in party lists, to double-member constituencies. Analysis of women's experience as policy-makers in local government following the 73rd and 74th Amendments to the Indian Constitution are an important argument for extending legal measures to ensure the greater participation of women in the parliament. This book is invaluable to all those interested in the cause of women's enhanced representation in formal politics.
MEENA DHANDA
is Reader in Philosophy and Cultural Politics at the University of Wolverhampton, UK. As a Commonwealth Scholar at Balliol College, Oxford, she completed her DPhil in Philosophy on 'The Negotiation of Personal Identity'. Her publications include papers on the concepts of respect, acknowledgement, Dalit identity and gender quotas; and interviews with the feminist philosophers, Michele Le Doeuff and Iris Marion Young. She is the author of
The Negotiation of Personal Identity
(2008).