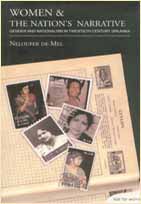 WOMEN & THE NATION'S NARRATIVE:
GENDER AND NATIONALISM IN TWENTIETH CENTURY SRI LANKA
Neloufer de Mel
Rs 250 Hb 2001
81-86706-41-0
(All rights available)
This book explores the development of nationalism in Sri Lanka during the past century, particularly within the dominant Sinhala Buddhist and militant Tamil movements. Tracing the ways women from diverse backgrounds have engaged with nationalism, Neloufer de Mel argues that gender is crucial to an understanding of nationalism and vice versa.
NELOUFER DE MEL

is Professor of English at the Department of English, University of Colombo, Sri Lanka. She is the author of
Women and the Nation's Narrative: Gender and Nationalism in 20th Century Sri Lanka
(2001) and
Militarizing Sri Lanka: Popular Culture, Memory and Narrative in the Armed Conflict
(2007).