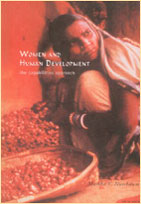 WOMEN AND HUMAN DEVELOPMENT:
THE CAPABILITIES APPROACH
Martha Nussbaum
Rs 250 Pb 2000
81-86706-55-0
In this major book, the author, one of the most innovative and influential philosophical voices of our time, proposes a new kind of feminism that is genuinely international. She argues for an ethical underpinning to all thought about development planning and public policy, and dramatically moves beyond the abstractions of economists and philosophers to embed thought about justice in the concrete reality of the struggle of poor women.
MARTHA C. NUSSBAUM

is Ernst Freud Distinguished Professor of Law and Ethics at the University of Chicago. She is the author of
Cultivating Humanity: A Classical Defence of Reform in Liberal Education; The Fragility of Goodness: Luck and Ethics in Greek Tragedy
and
Philosophy, and Sex and Social Justice.