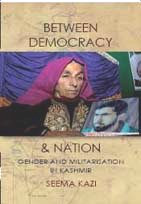 BETWEEN DEMOCRACY AND NATION:
GENDER AND MILITARISATION IN KASHMIR
Seema Kazi (Ed.)
Rs 375 Hb 256 pp
81-88965-46-4
(US, Canada and Pakistani rights sold. All others available.)
This book focuses on the militarisation of a secessionist movement involving Kashmiri militants and Indian military forces in Jammu and Kashmir. Contrary to the conventional distinction between inter- and intra-state military conflict, this militarisation is located within a single analytic frame and the heaviest price of using the military for domestic repression and the defence of Kashmir is paid by its citizens. She examines the relationship between state military processes at the 'national' and local level. Kashmir's humanitarian tragedy—exemplified by its gender dimensions and women's subjective experience of militarisation—underlines why militarisation has failed either to ensure 'security' for the state, or justice for Kashmiris. A decentralised, democratic state, she believes, is the best safeguard against using the military for domestic repression within, and extraordinary military and nuclear consolidation of the Indian state, without.
SEEMA KAZI
has been educated in India, the Netherlands and the United Kingdom and has a PhD from the Gender Institute, London School of Economics. She has worked with NGOs and women's groups in India and was part of an international research project on women and laws in the Muslim world. She subsequently worked as an independent researcher and writer in the area of Muslim women and human rights with Women's Learning Partnership (WLP), Washington DC, and the Minority Rights Group (MRG) London.

...an important and useful addition to the works on the Kashmir conflict and also on the larger issue of democracy as an ethical and moral concept
—The New Indian Express

...brings a succinct and clear understanding of the changing historical concepts of conventional 'militarism' and its morphing into 'militarisation' ... an important intellectual demarche in successfully contesting militarisation as an all-male arena
—Economic & Political Weekly