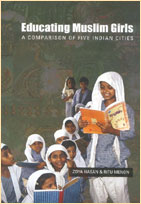 EDUCATING MUSLIM GIRLS:
A COMPARISON OF FIVE INDIAN CITIES
Zoya Hasan & Ritu Menon
Rs 300 Hb 2005
81-88965-16-2
(All rights available)
This examination of the several considerations and factors that influence the schooling of Muslim girls is the first of its kind, based on first-hand information from interviews, documents and reports, and empirical studies. It argues that state policies and initiatives on education, regional location, social and economic compulsions, as well as changing community perceptions are critical to our understanding of why the educational attainment of Muslim girls continues to remain below average. The authors draw on their Survey findings on girls' education, based on data collected across the country, to present a macro consideration of the complex factors that influence Muslim girls' schooling. They can compare the experiences of five distinct locations Delhi, Aligarh, Kolkata, Hyderabad and Calicut and attempts a situational, micro analysis of these factors, identifying some critical elements that determine their educational status. By doing so they succeed in dispelling prevalent misperceptions regarding 'community conservatism' and resistance to change and advocate more pro-active affirmative action by the state.
ZOYA HASAN
is Professor at the Centre for Political Studies, Jawaharlal Nehru University, New Delhi. She has published widely in academic journals and periodicals and is the author of
Dominance & Mobilisation: Rural Politics in Western Uttar Pradesh
(1989) and
Quest for Power: Oppositional Movements and Post Congress Politics in Uttar Pradesh
(1998). With Ritu Menon she is co-author of
Unequality Citizens: A Study of Muslim Women in India
(2004), and co-editor with her of
in a Minority: Essays on Muslim Women in India
(2005).

RITU MENON
is co-founder of Kali for Women, India's oldest feminist press, and of Women Unlimited, an associate of Kali for Women. She has written and published widely on women, and is co-author of
Borders & Boundaries: Women in India's Partition; Unequal Citizens: A Study of Muslim Women in India; and From Mathura to Manorama: Resisting Violence Against Women in India.
Her most recent book is
Out of Line: a literary and political biography of Nayantara Sahgal.
She was awarded the Padma Shri in 2011.