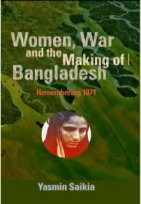 WOMEN, WAR AND THE MAKING OF BANGLADESH: REMEMBERING 1971
Yasmin Saikia
Rs. 600 Hb 2011
81-88965-45-6
(World English language, Pakistani and Bangladeshi rights sold. Others available.)
What is the relationship between nationalism and violence? Is it possible to move beyond demarcated histories of nations and states in South Asia and reconsider a people's narrative of 1971? Based on eight oral accounts, this book traces the multiple experiences of Bangladeshi women in the 1971 war. The voices in this book are new and original. Almost all of them speak here for the first time about their experiences, and about the social, political and medical work they did during the war. In listening to them we learn first-hand of the horrors of violence, and of the unfinished business of the Partition of 1947 that surfaced, once again, in 1971.

The 'enemy' in 1971 was framed by multiple groups including Pakistani army men, as well as Bengali, Bihari and Indian men who were involved in the war. Survivors' accounts plunge us into an abyss of post-colonial darkness, from which emerges a human voice compelling us to acknowledge women's resilience and the ways in which they have created meaning beyond the violence they suffered. In the process they not only interrogate the making of a new nation, they simultaneously pose a challenge to post-1971 historiography in Bangladesh, highlighting the many 'absences' in the official and unofficial histories offered so far.
YASMIN SAIKIA
is Professor of History, Arizona State University, and Hardt-Nickachos Chair in Peace Studies. She is the author of numerous articles and a book,
Fragmented Memories: Struggling to be Tai-Ahom in India
(2004), which was awarded the Srikanta Dutta prize for best book on north-east India by the Nehru Memorial Museum and Library, New Delhi.