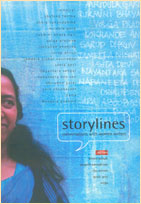 STORYLINES:
CONVERSATIONS WITH WOMEN WRITERS
Ammu Joseph, Vasanth Kannabiran, Ritu Menon, Gouri Salvi & Volga (Eds.)
Rs 250 Pb 2003
ISBN N/A
The 17 writers in this anthology are among the best-known and best loved women writing in India today. They represent a true cross-section of society in terms of location, age, caste, community or religion, and genre and unfold a rich tapestry of experience and insight across languages and regions; gender and genre; caste and community.
Featured here are Nayantara Sahgal, Nabaneeta Dev Sen, Dhiruben Patel, Sara Aboobacker, Bama, Mangala Godbole, Rukmini Bhaya Nair, Volga, Pradnya Lokhande, Anamika, Sarup Dhruv, Jameela Nishat, Vasireddy Seeta Devi, Ilampirai, Shafeeq Fatima Shera, T. Sunandamma and Mridula Garg.
Published by Women's world (India) and Asmita (Hyderabad)