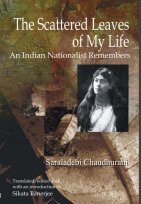 THE SCATTERED
LEAVES OF MY LIFE:
AN INDIAN NATIONALIST REMEMBERS
Saraladebi Chaudhurani
Translated and introduced by Sikata Banerjee
Rs 500 Hb 2011
81-88965-50-2
(All rights available)
This is a translation into English ofJibaner Jharapata, the autobiography of a remarkable 19th century Bengali feminist, Saraladebi Chaudhurani (1872-1945) that outlines her imaginings of an independent Indian nation and her view of women's role within it. It articulates her passionate advocacy for women's education and includes fascinating details of the challenges faced by an educated, independent woman at the time.

Translated, edited and introduced by Sikata Banerjee, she locates Saraladebi among the important voices of Indian nationalism, which has, until recently, been seen as solely masculine. Banerjee's Introduction fleshes out biographical details and situates Saraladebi's ideology within current debates around gender, nation and feminisms, while her Afterword reflects on the legacy of her ideas in contemporary India.


SIKATA BANERJEE
is Associate Dean, Humanities, and Professor, Women's Studies at the University of Victoria, British Columbia. Her publications include
Make Me a Man: Masculinity, Hinduism and Nationalism in India; and Warriors in Politics: Hindu Nationalism, Violence and the Shiv Sena in India.


Published in collaboration with Stree


(
)