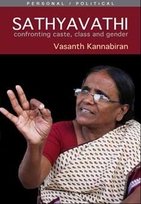 SATHYAVATHI:

CONFRONTING CASTE, CLASS AND GENDER
Vasanth Kannabiran

Rs 175 Pb 2015
978-81-88965-90-8
(All rights available)
I have the satisfaction of knowing that whatever I longed for—a full meal, an education, a roof over my head, self-respect—I have been able to bring all that within the reach of many of my people.


Sathyavathi
captures the struggle of a Dalit woman in Telengana to survive and acquire an education in the face of overwhelming odds—grinding poverty, discrimination, violence. Her determination to go back to work for her community, her hard-won success, despite lack of political backing, and the hostility and intolerance she faced are testimony to the triumph of the human spirit. Without a trace of self-pity or rancour she recalls her life with dispassionate clarity and an irony that are exceptional.


SATHYAVATHI

is one among countless Dalit women in Telengana who battled starvation and discrimination for an education that she knew would change her life. She set up her own organisation, Rural Awareness and Development Society, committed to fighting for Dalits, minor girls, women and tribals. She was awarded the Resourceful Women Award of Merit from the Shaler Adams Foundation in 1994 and Swara Veda Charity—Spirit of Life Award of Appreciation by the NTR Memorial Trust in 2011.
VASANTH KANNABIRAN
is a renowned feminist writer and founding member of Asmita Resource Centre for Women. She has written extensively on the political dimensions of gender. She has also written and produced four ballets, Menakaa, Peace on Earth, Ahalya and Gandhari. Her next, Rajasimha, is forthcoming. She is the author of A Grief to Bury: Memories of Love, Work & Loss (2011).