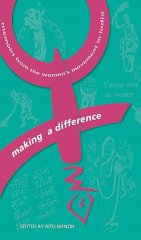 MAKING A DIFFERENCE:
MEMOIRS FROM THE WOMEN'S MOVEMENT IN INDIA
Ritu Menon (Ed.)

Rs 350 Pb 2011
81-88965-67-7
(All rights available)
The
autonomous women's movement is remarkable for its energy and staying power, and for the impact it has had on progressive social change in the country. Twenty women who have made a critical contribution to the women's, and the women's studies, movement recall the last quarter century of activism, taking as its starting point the impossibility of separating the personal from the political, or the private from the public, as each of the memoirs vividly illustrates. They cover the most momentous and memorable developments and campaigns of this period, recount the triumphs and disappointments, reflect on alliances forged, on relationships lost-and found.

Memoirists include: Indira Jaising, Vandana Shiva, Kamla Bhasin, Bina Agarwal, Uma Chakravari, Vasanth Kannabiran, Gabriele Dietrich, Pamela Philipose, Saheli, Norma Alvares, Ruth Vanita, Devaki Jain, Nalini Nayak, Meera Velayudhan, Roshmi Goswami, Nirmala Banerjee, Vibhuti Patel, Ilina Sen, Sheba Chhachhi and Ritu Menon.


RITU MENON
is co-founder of Kali for Women, India's oldest feminist press, and of Women Unlimited, an associate of Kali for Women. She has written and published widely on women, and is co-author of
Borders & Boundaries: Women in India's Partition; Unequal Citizens: A Study of Muslim Women in India; Educating Muslim Girls: A Comparison of Five Indian Cities; and From Mathura to Manorama*#58; Resisting Violence Against Women in India.
Her most recent book is
Out of Line: a literary and political biography of Nayantara Sahgal.
She was awarded the Padma Shri in 2011.