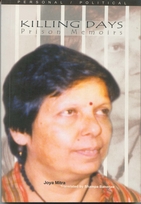 KILLING DAYS
:
PRISON MEMOIRS
Joya Mitra
Translated by Shampa Banerjee
Rs 200 Pb 2004
81-86706-74-7
(All rights available)
In the aftermath of the political upheavals of the 1970s, many who suffered for their political convictions have recounted the ruthless tyranny of those dark times in prison memoirs.

Here, Joya Mitra recalls the less fortunate ones, the ones she left behind. These are portraits of women who overstepped the boundaries of social norms sometimes unknowingly, but most often because they were deprived of all choice, women who were banished from society and kept in prisons for 'correction'.

Translated for the first time from the original Bengali,
Hanyaman
, which won the prestigious Ananda Puraskar when it was first published.
JOYA MITRA
is a full-time writer, and author of several novels and collections of poems in Bengali. Her involvement with politics began while she was a college student in the late 60s. Her poetry collections include
Pratnoprastherer Gaan
(Song of the Ancient Stones), and
Deergha Ektara
(The Long String Instrument). Among her novels is
Swarna Kamaler Cinha
(The Sign of the Golden Lotus). She has translated the works of Amrita Pritam, Bhisham Sahni, Vaidehi and Ajeet Caur into Bengali.

SHAMPA BANERJEE
is a well-known translator from Bengali. She lives and works in the US.