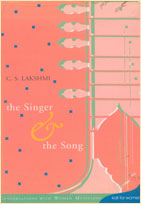 THE SINGER & THE SONG:
CONVERSATIONS WITH WOMEN MUSICIANS
C.S. Lakshmi
Rs 400 Hb 2000
81-86706-15-3
(All rights available)
This is the first of C.S. Lakshmi's three volumes of detailed interviews with 50 notable women in the arts in India. She recounts the experiences of legendary greats in the field of music, both vocal and instrumental, like Gangubai Hangal, Naina Devi, Dhondutai Kulkarni, Veena Sahasrabuddhe, Sukanya Ramgopal and many others. She provides us a fascinating account of how individual careers evolved in a constantly changing musical environment. This rare document is accompanied by photographs and an insightful introduction on the importance of oral history in recording women's experiences.
C.S. LAKSHMI
has been doing research in the field of women's studies for the past 30 years and has published several articles on the subject. She is the author of
The Face Behind the Mask
on women in Tamil literature. She writes Tamil fiction using the nom de plume, 'Ambai'. She is founder trustee and Director of SPARROW (Sound and Picture Archives for Research on Women), in Mumbai.