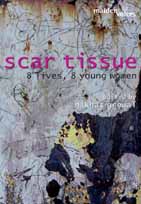 SCAR TISSUE
:
8 LIVES, 8 YOUNG WOMEN
Nikhat Grewal (Ed.)
Rs 150 Pb 2007
81-88965-33-2
(All rights available)
Who are the girls whose stories you will be reading? What do we have in common? Hopes, dreams, fears, a certain glint in the eye. Are we different, or are we like you? Are our stories your story?

The first title in Women Unlimited's

Maiden Voices

series,

Scar Tissue

is a moving collection of first-person stories by young women, speaking candidly and bravely about their lives. 'When one looks at scar tissue,' says Nikhat Grewal, the anthology's editor, 'there is only an essence of the wound that once was. The healing process has begun and the battle scars are getting lighter. The stories that one reads in this book are like that. Like scar tissue, they are proof that the healing has begun. These women reveal themselves not by sharing their pain, but its aftermath. They are not victims, but survivors, claiming their space and the right to be who they are. These are women proud of their scar tissue.'

Nikhat Grewal
is a child psychologist and aspiring fiction writer and traveller. She believes in the power of bed tea, human weakness and lunar eclipses. She currently lives in New Delhi with her turtles, in a flat she sometimes shares with her dog.