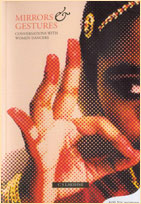 MIRRORS & GESTURES:
CONVERSATIONS WITH WOMEN DANCERS
C.S. Lakshmi
Rs 400 Hb 2003
81-86706-15-1
(All rights available)
'What I really wanted,' says Lakshmi, 'was to try and understand the artistes as women… living and functioning as women and as artistes in a patriarchal society that fixed them in particular ways. I wanted them to talk about their lives in general, to learn about how art was to be taken into account as a factor in their everyday lives; how they sustained their art over the years; how it influenced their decisions in life, why they continued to pursue it, did they have choices; what their family life was like; and how they looked upon life as a whole.'

Here she recounts the experiences of well known classical dancers Chandralekha, Zohra Segal, Sita Pooviah, the Jhaveri Sisters, Chandrabhaga Devi, Indrani Rehman, Leela Samson, Alarmel Valli, Malavika Sarukkai and many others.

C.S. LAKSHMI
has been doing research in the field of women's studies for the past 30 years and has published several articles on the subject. She is the author of
The Face Behind the Mask
on women in Tamil literature. She writes Tamil fiction using the nom de plume, 'Ambai'. She is founder trustee and Director of SPARROW (Sound and Picture Archives for Research on Women), in Mumbai.