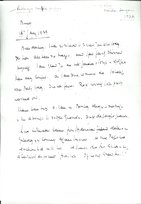 DARLING BEBE:
LETTERS FROM SAROJINI NAIDU TO PADMAJA NAIDU,
1913-1940
Selected & introduced by Amrita Bhalla

Information awaited
978-81-88965-97-7
(All rights available)
The complex dynamics of a mother-daughter relationship during India's Freedom Movement are revealed through this selection of letters from Sarojini Naidu to her daughter, Padmaja. As a substantial, unpublished archive of approximately 1300 letters it is a unique and invaluable source of recent Indian history.

Both mother and daughter were important personalities in the political, social and cultural history of colonial and post-Independence India. Sarojini Naidu was the first woman to hold the post of President of the Indian National Congress, one of the most prominent women among nationalist leaders, closely associated with intellectuals, poets and leaders, among them Gokhale, Gandhi, Nehru, Jinnah and Tagore. Padmaja followed in her mother's footsteps, carving a political niche for herself in post- Independence India, and as beloved friend and companion to the Nehrus. There can be few letters from that period that are as detailed, numerous, exhaustive and wide-ranging, as these from a mother to her daughter.


Together with a reissue of
Sarojini Naidu: Selected Letters 1890s to 1940s
edited & introduced by Makarand Paranjape
AMRITA BHALLA
teaches Literature in English at Jesus and Mary College, University of Delhi. Her book,
Shashi Deshpande
(2006) is part of Northcote's acclaimed Writers and their Work
series. She has also contributed the Introduction to the
Collected Short Stories of Shashi Deshpande
(Penguin). Her research interests are in the representation of women during the colonial struggle for Independence and find expression in reviews and articles.