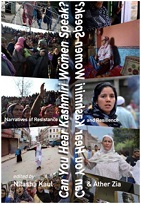 Can You Hear Kashmiri Women Speak?
Narratives of Resistance and Resilience
Nitasha Kaul & Ather Zia (Ed)
Rs 795 Hb 2020
978-93-85606-30-4
All rights available
Kashmir is hypervisible and enormously powerful in the contemporary Indian imaginary, and can be made to carry different political meanings and messages.
The terms Kashmiri Pandit, Kashmiri Muslim, Kashmiri men and Kashmiri women, when used in public discourse perform distinct functions. This volume initiates the reader into a complex understanding of Kashmiri women's life-worlds, in the context of protracted civil conflict and military occupation.
The women here speak and write about the aftermath of the shocking abrogation of Article 370 in August 2019; of spectacles and street protests in the Valley; of women's companionship and female alliances; and of the literature of resistance. They analyse the links between gender, militarism and militarisation; and between violence, women's livelihoods, and environmental destruction. Forced into surrendering their rights and their autonomy, the Kashmiri women in this first-of-its-kind anthology shatter the silence and speak truth to power and to society.

Excerpt from the book
Nitasha Kaul

is an academic, novelist, and poet, and is currently Associate Professor, Politics and International Relations, at the Centre for the Study of Democracy, University of Westminster. Over the last two decades, her work has addressed questions of identity, democracy, political economy, social/feminist/postcolonial theory, Hindu nationalism, Kashmir, and Bhutan. Her books include the scholarly monograph,
Imagining Economics Otherwise: encounters with identity/ difference
(2007); and the novels
Residue
(2014) and
Future Tense
(2020).
Ather Zia
is a political anthropologist, poet, columnist, and short fiction writer. She teaches at the University of Northern Colorado Greeley, and is the author of Resisting Disappearances: Military Occupation and Women's Activism in Kashmir 2019); co-editor of Resisting Occupation in Kashmir 2018) and of A Desolation called Peace (2019). She has also published a book of poetry,The Frame (1999) and another is forthcoming. A widely published columnist, Ather is founder-editor of Kashmir Lit and co-founder of Critical Kashmir Studies Collective, an interdisciplinary network of scholars working on the Kashmir region.