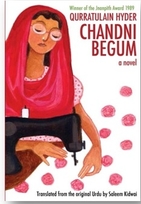 Chandni Begum

Qurratulain Hyder

Translated from the original Urdu by Saleem Kidwai
Rs. 450 Pp 340+vi
978-93-85606-11-3
Chandni Begum is Qurratulain Hyder's last, most enigmatic and daring of her novels. It spans the period from the Partition to the time of the Mandir-Masjid dispute in Ayodhya in the early Nineties, consistently connecting the present to the past. Centred around two prominent Lucknow families, the narrative closes in on the lives and struggles of Qambar, a romantic revolutionary, and the three women drawn to him-Bela, the daughter of a mirasi-bhand couple, desperate to break away from her tainted 'legacy'; Safia, the polio-stricken daughter of the Raja of Teen Katori, an independent 'educationist' dealing with the crushing rejection of her childhood betrothed and the demons that haunt her in its wake; and the eponymous heroine, Chandni Begum, destitute survivor of a once powerful landed family, looking for a way to get by respectably.
Hyder returns to her favourite themes and spaces-Partition, women entertainers, popular mysticism, the illustrious homes of Lucknow, the chawls of Bombay-to tell a rivetting tale, liberally sprinkled with entertaining characters and biting political and social comment.
Qurratulain Hyder
is one of Urduís greatest fiction writers. Her published work consists of four collections of short stories, five novels and several novellas. She has been a journalist, scriptwriter and broadcaster with BBC, as well as Producer Emeritus, AIR, and copywriter for an advertising agency. Among her many awards and honours are the Bharatiya Jnanpith, the Padma Shri, the Sahitya Akademi Award, and the Padma Bhushan.
Translator Bio:
Saleem Kidwai
is a medieval historian, scholar and translator. He has co-edited Same-Sex Love in India: Readings from Literature and History (2000), a pioneering work documenting and exploring the indigenous roots of same-sex desire in South Asia; he has translated the singer Malika Pukhraj's autobiography, Song Sung True (2004) and Mirror of Wonders and Other Tales (2012), a collection of short stories by Syed Rafiq Hussain.