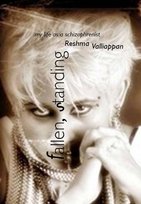 FALLEN, STANDING:
MY LIFE AS A SCHIZOPHRENIST
Reshma Valliappan

Rs 325 Pb 2015
978-81-88965-91-5
(All rights available)
Right now life sucks. I hate it. It seems so much easier to give up…
Just an hour ago I came out from the loo and stood still. I could not speak or yell or make any sound or move to call for help… I stood leaning towards my left against the wall as my entire right went numb and limp. And I just stared into space…
First the mind screws up… Then there is this body which has a life of its own…
Today I fell … while standing. My body still held on to the wall yet it was fallen. And there was nothing the mind could do.

Reshma was diagnosed with schizophrenia when she was 22. As she says, she didn't 'even know what the darn word meant'. In this extraordinary, first-of-its-kind account she writes about her experience of living with therapies and medication, struggling to make sense of her situation, surviving suicide attempts, finding support groups—and finally coming into her own.

Her will to overcome the tremendous odds she faced enabled her to gain unexpected insights into her condition, and her story, told in utterly unsparing prose, is courageous, powerful, eloquent and poignant.


RESHMA VALLIAPPAN
is Founder-Director of Mind Arcs and The Red Door that works in the area of breaking barriers between normalcy and madness, along with a platform to advocate for the rights of persons with mental illness. She was elected Ashoka Fellow in 2014, and received the WIN Woman of the Year Award, 2012-2013, in Pune. She is also an INK Fellow.
A drop of Sunshine,
a film made on Reshma's recovery, was screened in 2011.

She is currently pursuing a double master's in Philosophy and in Science and Religion, but, as she says: "…I really honestly spend time doing the tandavas in the rain with Thor and engaging in fictitious tantric encounters with the dead. And spend at least three hours a day with my cats learning their moves and drives to become a kick-ass samurai ninja."