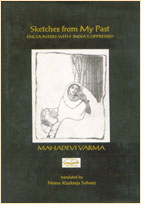 SKETCHES FROM MY PAST:
Encounters with India's Oppressed
Mahadevi Varma
Translated by Neera Kuckreja Sohoni
Rs 250 Pb 1999
81-86706-06-2
In this dramatically powerful collection of real-life portraits of oppressed women and other deprived members of Indian society, Mahadevi Varma weaves her memoirs around other peoples' lives rather than her own. Her intimate and affectionate sketches of women, men and children she personally knew, reveal her compassion for the desperate plight of the disinherited poor in the India, as well as her intense rage at those who exploit women and the dispossessed. Whether it is Binda, the lonely orphan girl victimised by her stepmother; Bhabi the emotionally and physically abused child widow barred from any contact with the outside world; or Sabiya the poor sweeper woman deserted by her husband shortly before the birth of their child, the subjects of Mahadevi's memoir convey for universalist vision to resurrect the inner dignity of 'these wounded and mauled lives'. Her compelling memoir transcends the borders of culture and time.
MAHADEVI VARMA

has been an affiliated scholar at the Institute for Research on Women and Gender at Stanford University, and a member of San Mateo County's Advisory Council on Women. She is the author of
Women Behind Bars, People in Action, and The Burden of Girlhood: A Global Enquiry into the Status of Girls.

NEERA KUCKREJA SOHONI

is an affiliated scholar at the Institute for Research on Women and Gender at Stanford University, and a member of San Mateo County's Advisory Council on Women. She is the author of
Women Behind Bars, People in Action
, and
The Burden of Girlhood: A Global Enquiry into the Status of Girls
,