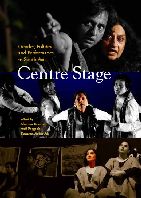 CENTRE STAGE
GENDER, POLITICS AND PERFORMANCE IN SOUTH ASIA
Sheema Kermani, Asif Farrukhi, Kamran Asdar Ali (EDS.)
Rs 750 Pb 2016
Hb pp. 314+xii
ISBN: 978-81-88965-95-3

All rights available

In one of the first books of its kind, this volume captures the history of activism and political struggle in literature and the performing arts in South Asia. Its focus is on gender, on artists and performances that defied-and defy-censorship and state authority; on women who contributed significantly to cultural life in their countries; on writers, performers and poets who challenged social mores and polite society through subversive creative expression. Contributors critique established norms and uncover histories of the oppressed in order to articulate a politics that imagines a more egalitarian and liberated future in the subcontinent.
SHEEMA KERMANI
is a classical dancer, teacher, theatre practitioner, choreographer and women's rights activist. She is founder and head of Tehrik-e-Niswan Cultural Action Group dedicated to improving women's rights in Pakistan by raising awareness through the use of dance, performing arts and cultural activity. She is the author of several articles on culture and has received many national and international awards.

ASIF FARRUKHI
is an author, critic and translator, known for his short stories and essays, seven anthologies of short fiction, and two collections of critical essays. He is the editor of Duniyazad, a literary journal in Urdu of new writing and contemporary issues.

KAMRAN ASDAR ALI
is Associate Professor of Anthropology and Director of the South Asia Institute at the University of Texas at Austin. He has conducted ethnographic research in Mexico, Egypt and Pakistan, and is the author of Planning the Family in Egypt: New Bodies, New Selves (2002); and Communism in Pakistan: Politics and Class Activism 1947-72 (2015).