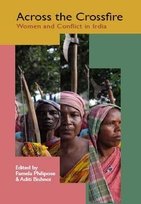 ACROSS THE CROSSFIRE:
WOMEN AND CONFLICT IN INDIA
Pamela Philipose & Aditi Bishnoi (Eds.)
Rs 275 Pb 2013
978-81-88965-20-5
(All rights available)
While the impact of conflict and violence on the lives of women in India is well recognised as being deeply destabilising, women for the most part are missing in the conflict discourse. Media reporting on wars, insurgencies, riots and natural calamities routinely overlooks them; administrative responses to the social disruptions caused by conflict remain insensitive to their special needs; legal regimes and the redress they offer continue to be gender-blind; and women remain seriously under-represented at the policy-making and peace-keeping tables in the aftermath of conflict. In other words, it is in their absence that women register their presence in the annals of our disturbed times.

In an attempt to address this lacuna, Across the Crossfire presents a series of news features commissioned by the Women's Feature Service. Written between 2009 and 2011, these features illustrate a gamut of women's experiences of conflict in India, ranging from their lack of access to emergency health care in the insurgency-hit areas of rural Chhattisgarh and Odisha, to their extreme vulnerability to sex-trafficking in West Bengal. Crucially, Across the Crossfire also documents instances of women's courageous resistance, their creative pragmatism and their inspiring resilience as, time and again, they reach out across divisive lines and rebuild their communities and lives.
PAMELA PHILIPOSE

is a senior, award-winning journalist who has worked in mainstream newspapers like
The Times of India
and
The Indian Express.
She is presently Director and Editor-in-Chief, Women's Feature Service.

ADITI BISHNOI
is Associate Editor, Women's Feature Service. She has written extensively on issues of social concern.